UL Certificate 70A 80A J1772 Plug Type 1 EV Connector J1772 Extension Cable
Product Detail
Product Tags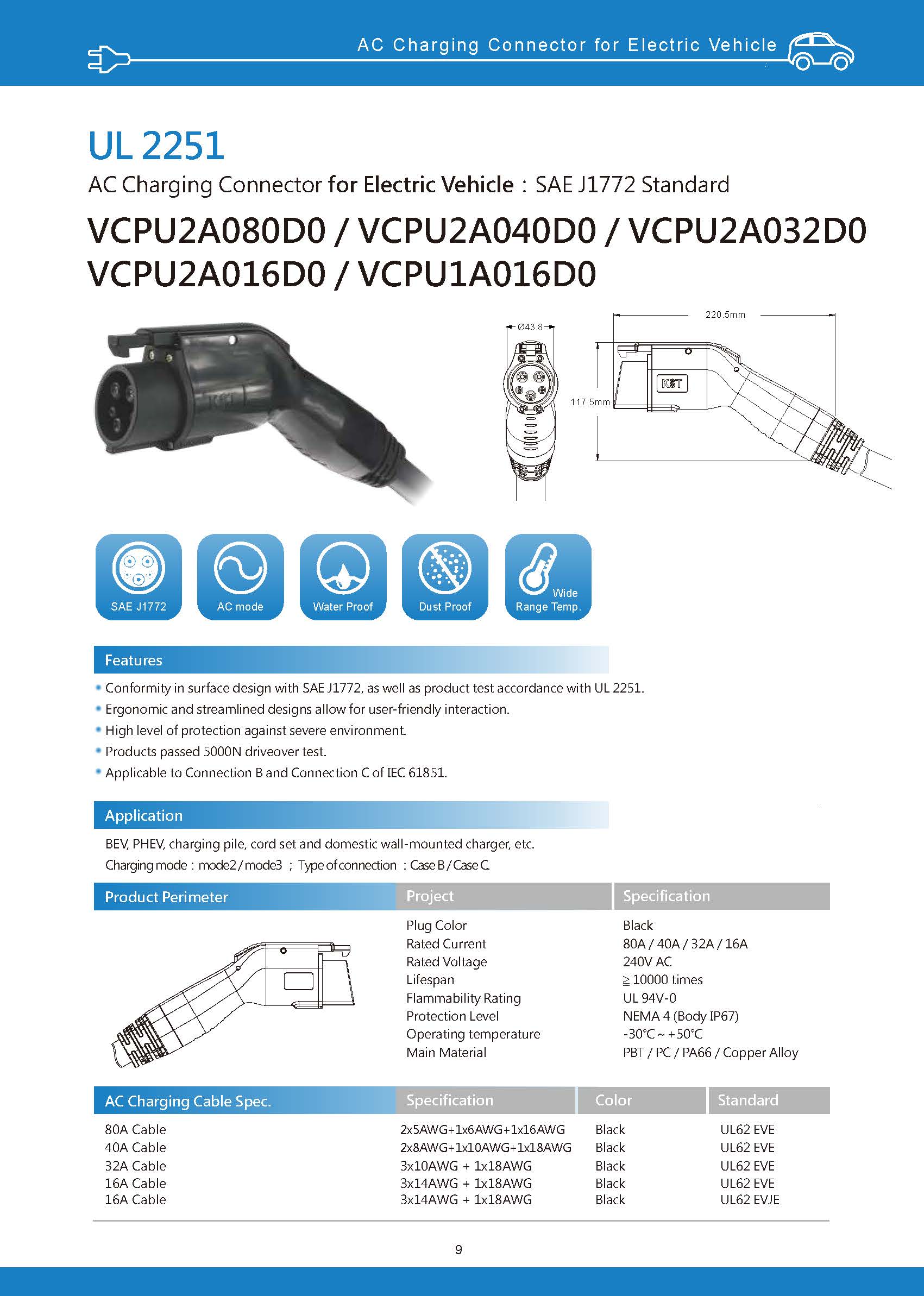 AC Charging Connector for Electric Vehicle : SAE J1772 Standard
VCPU2A080DO / VCPU2A040D0 / VCPU2A032D0VCPU2A016D0 / VCPU1A016D0
Features
●Conformity in surface design with SAE J1772, as well as product test accordance with UL 2251.
●Ergonomic and streamlined designs allow for user-friendly interaction.
●High level of protection against severe environment.
●Products passed 5000N driveover test.
●Applicable to Connection B and Connection C of IEC 61851.
Application
BEV, PHEV, charging pile, cord set and domestic wall-mounted charger, etc.
Charging mode: mode2 / mode3.
Type ofconnection : Case B / Case C.
Product Perimeter
Project
Specification
Plug Color
Rated Current
Rated Voltage
Lifespan
Flammability Rating
Protection Level
Operating temperature
Main Material
Black
80A / 40A / 32A / 16A
240V AC
10000 times
UL 94V-0
NEMA 4 ( Body IP67 )
-30°C+ 50 °C
PBT / PC / PA66 / Copper Alloy
---
AC Charging Cable Spec
Specification
Color
Standard
80A Cable
40A Cable3
2A Cable
16A Cable
16A Cable
2X5AWG + 1X6AWG + 1X16AWG
2X8AWG-1X10AWG-1X18AWG
3X10AWG + 1X18AWG
3X14AWG + 1X18AWG
3X14AWG + 1X1 & AWG
Black
Black
Black
Black
Black
UL62EVE
UL62EVE
UL62EVE
UL62EVE
UL62EVJE
---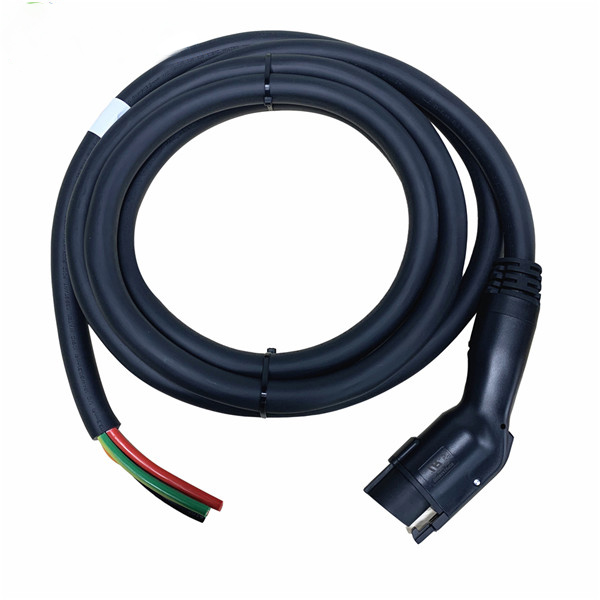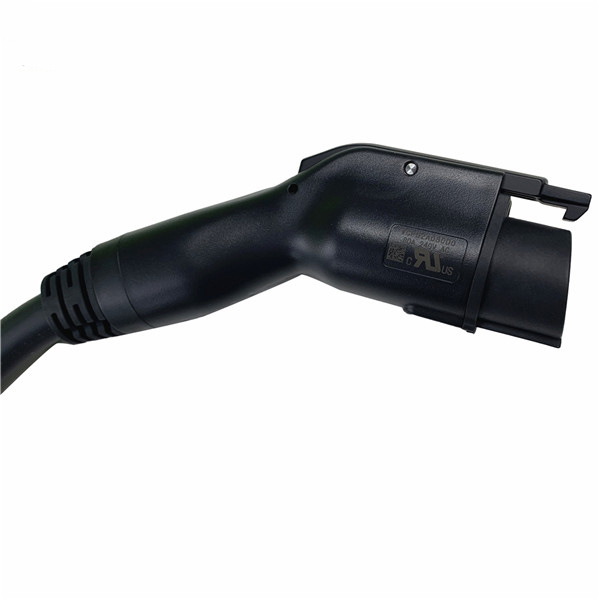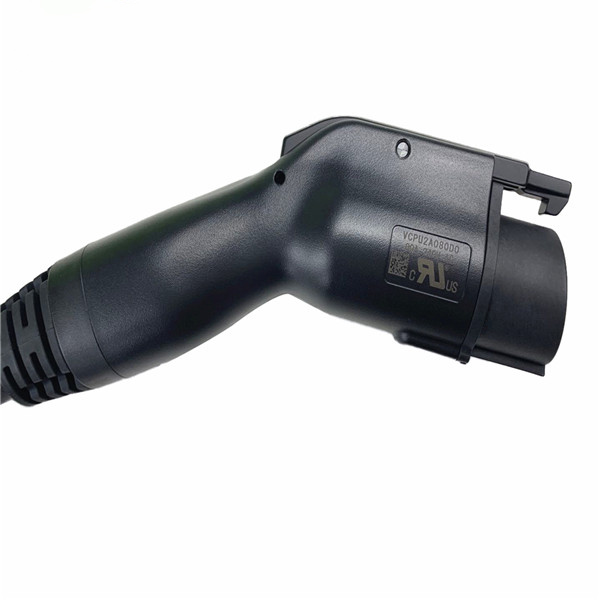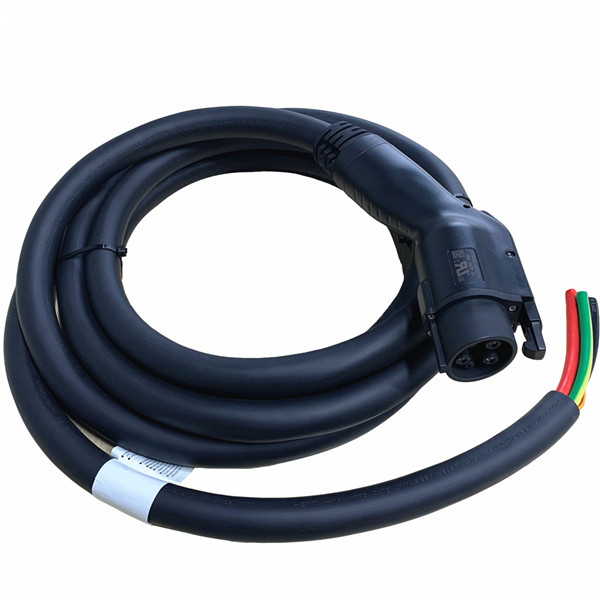 ---
Next:
USA 16A 32A 40A 50A SAE J1772 Connector J1772 Extension Cord Type1 EV Plug for Electric Car Charger
---