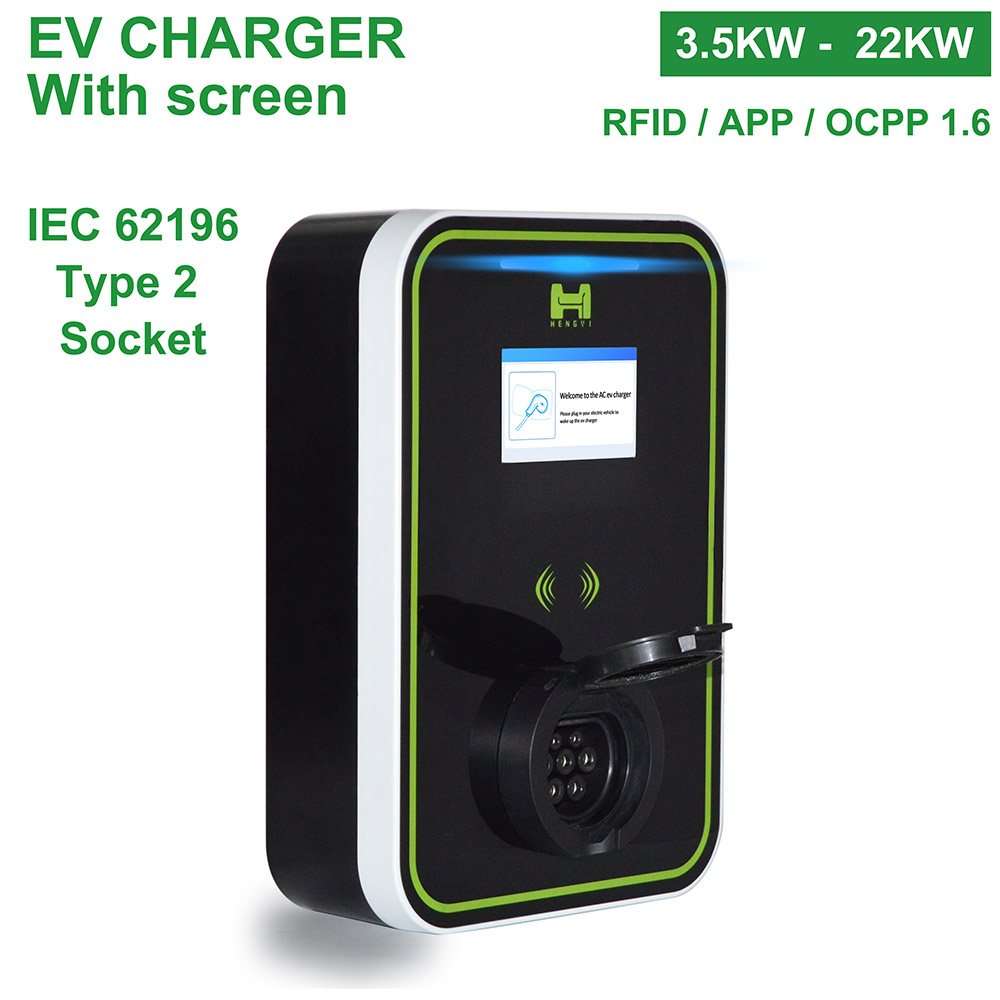 This wall-mounted ev charger is suitable for home charging. It is easy to install, stable and has a complete protection mechanism. The display shows real-time charging data. The charger can also be used in conjunction with a stand for installation in the garden or in an outdoor parking space.
| | |
| --- | --- |
| Power | 3.5KW, 7.2KW, 11KW, 22KW |
| IP rating | IP55 |
| RCD | Type A / Type B |
| Size | 350(H)*240(W)*95(D)mm |
| Working temperature | -40°C~+65°C |
| Customization | Logo, brand, design, size, color, function |
| Mounting | wall mounted (default), floor standing (additional accessories required) |
This product is Mode 3 Case B, with current output via female socket. When charging, connect the Type 2 to Type 2 charging cable to the device and the car respectively and start charging. Once charging is complete, the charging cable can be unplugged. For safety when charging, it is recommended to purchase a model with an electronic lock, which locks the plug and prevents it from being removed until charging is complete.
Parameter

Product model

Dark house Ⅰ  Series

Structure

Size(mm)

350(H)*240(W)*95(D)mm

Installation

Wall-mounted Type / Floor-standing Type Installation

 

IEC 62196 Femal socket

Weight

6.0kg

Electrical Specifications

Input voltage

AC220V±20% / AC380V±10%

Frequency rating

45~65HZ

Power rating

3.5KW/ 7KW /11KW /22KW Optional

Measuring accuracy

1.0 grade

Output voltage

3.5/7KW:AC 220V±20%     11/22KW :AC 380V±10%

Output current

3.5KW:16A   7KW:32A   11KW:3*16A   22KW:3*32A

Measurement accuracy

OBM 1.0

Function

Indicator light

Y

4.3 inch display screen

Optional

Communication interface

WIFI/4G/OCPP1.6/LAN Optional

Operating conditions

Working temperature

-40~+65℃

Relative humidity permission

5%~95%(non-condensation)

Maximum altitude permission

≤3000m

IP grade

≥IP55

Cooling way

Natural cooling

Applicable ambient

Indoor/outdoor

ECT

UV resistance

MTBF

≥100000H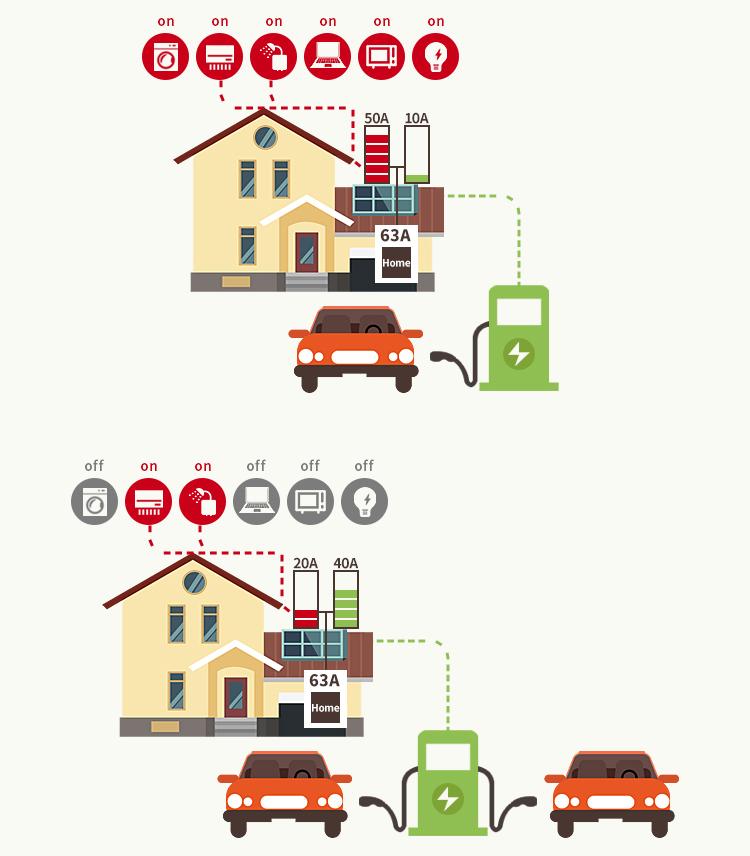 The charging current of the ev charger is automatically reduced when there are a lot of appliances in the house, and the charging post is automatically fully charged when the household appliances are switched off at night.
Charging by appointment
Charge late at night by appointment, low-carbon, eco-friendly, lower electricity bills
 Real-time data
Real-time display of current charging voltage, current and power
Accurate metering of the charge pile's electricity consumption, so that every dollar of electricity used is clearly visible.
Charging station historical usage report
Daily and monthly charging status at a glance
Smart WIFI networking
OTA upgrades; improved troubleshooting through remote diagnostics
Power adjustment
Customised charging power, adjustable up to 1.8KW-22KW.
The EVSE has eight erected-in protections Overvoltage protection, undervoltage protection, load protection, short circuit protection, ground protection, over temperature protection, lightning protection, onboard A 6 type leakage protection.
Four charging configurations, draw and charge, RFID card charging, APP control, home cargobalancing. Two types of covers are available, with and without screen, and colorful ODM results are available. Prices may vary for different configurations, please communicate us for further information.
The EVSE is completely wrapped in an air pillar bag and placed in a 45*37*20cm 5-layer corrugated cardboard box with other accessories and instructions. The carton is blank and we do not leave any information about Hengyi on the packaging.
We also offer to put your logo on the carton, customise the box, instructions, etc.
After Sales
If you have any questions, please contact us and we will reply within 24 hours.